Friday night lights are a staple in small-town America, especially in Northern Indiana & Southwest Michigan! The games are a chance for people to come together and cheer on their favorite local team. With that, many fans watching the game there is bound to be dirt and debris build up on the seats and surrounding areas. Power washing stadiums is a great way to keep them clean and inviting for fans. Double A Power Washing offers stadium power washing services that can help improve your facility.
Stadium Messes & How We Clean Them
This process involves using professional-grade cleaning solutions and high-pressure water spray to remove unwanted grime. The professionals at Double A Power Washing are trained to remove contaminants from seats, walkways, concrete, press box exteriors, and other surfaces surrounding the grounds of the stadium. We have the experience and expertise necessary to get the job done right. We also know when to power wash or soft wash a surface. Our professional power washing chemicals & equipment allow us to easily clean:
Dirt
Algae
Gum
Mildew
Sticky Pop Spills
Mold
Moss
Stadium Cleaning Schedule
It is important for stadiums to use this service regularly in order to maintain a clean environment for their patrons and provide them with a safe and enjoyable atmosphere while they enjoy the game. After every event, the onsite maintenance staff should empty all the trash around the stadium. They should also sweep or blow off all of the big trash and debris from the bleachers. This will minimize the buildup and help keep your facilities looking clean in between off-season deep cleanings.
Professional deep cleanings should happen at least once per year. The ideal time for Stadium Deep Cleaning is in the off-season so crews have a chance to clean everything without events interrupting the cleaning schedule.  Yearly cleaning will reduce the maintenance costs and keep your stadium looking great for years to come! Professional cleaning companies should be the ones Power Washing Stadiums because they are trained for this procedure. Not only does it keep the stadium looking spotless but it also helps protect against potential hazards due to accumulated surface contamination. By power washing regularly, you are helping your customers stay safe while they watch their favorite team compete.
Fan Favorite Stadium Cleaning
Double A Power Washing is a company that strives for 100% customer satisfaction. We offer multiple stadium cleaning options so that our customers can find the service that best suits their needs. Our team of professionals has experience with a variety of different cleaning services, including Stadium Power Washing, Concrete Cleaning, Building Power Washing, and everything else your facility needs clean. We are dedicated to providing quality workmanship every time so you know the job will be right the first time.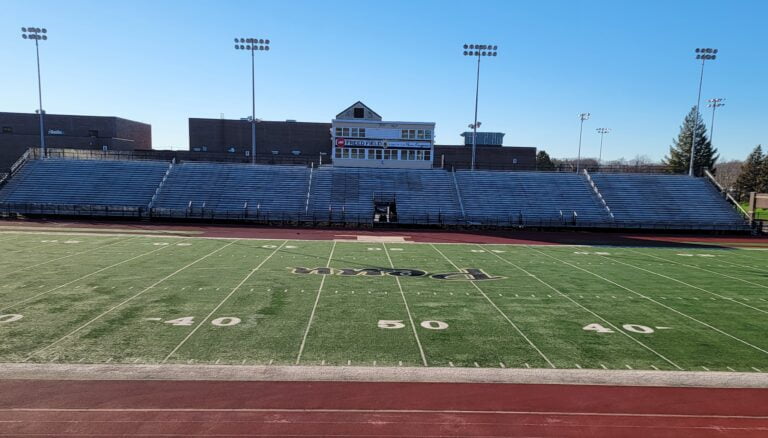 Call For All Of Your Stadium Cleaning Needs
Creating a welcoming space for fans is important; you want them to feel comfortable sitting and watching the game. Leave your fans with the desire to come back, cheer on their team, and power washing your stadium can help make that happen. We have a broad service territory covering Northern Indiana & Southwest Michigan, so feel free to reach out to us to see if we service your area. Contact us today to learn more about our services or to schedule a free consultation! You can fill out our online contact form, or call/ text us for any questions or scheduling.