Top-Tier Power Washing Services in Granger, IN
Excellent Customer Service is our Goal in Granger
Boasting just over 30,000 citizens, Granger, Indiana, has small town charm with lots of opportunities and things to do. Surrounded by South Bend, Mishawaka, and Elkhart, you get the luxuries of city living with the slower paced country life feel. Granger is known for delicious restaurants like Yesterday's and Uptown Kitchen, quaint shopping experiences at Vintage Charm and Judee's Boutique, and fun family activities like bike rides along the Granger Paths. At Double A Power Washing, we are honored to serve the residents of Granger when they are in need of residential or Commercial Power Washing services.
We're here to serve you and your properties!
Since 2019, Double A Power Washing has always had one goal: to help restore the things you love to look like new. We want you to feel comfortable and confident in the appearance and safety of your investments because what matters to you matters to us too. Grime such as dirt, pollen, mold, and other decay can accumulate on your exterior making it look not only dull and dingy but also potentially problematic for your family. This accumulation can also release allergens that are hazardous to your health. We want to help our customers in Granger remove that stress from their lives literally and figuratively with reliable, professional power washing.  
We specialize in Residential and Commercial Power Washing and Soft Washing of homes, commercial buildings, Concrete Power Washing, Roofs, & Gutters. Whether your home needs cleaning of vinyl siding, wood siding, brick exteriors, stonework, painted siding, gutters, downspouts, or something else, our personable and professional team will work with you to find the right services for your property. If your commercial property needs cleaning of an entire building, concrete, drive-thru lanes, awnings, or something specialized, we'll work with you every step of the way. We're family owned and fully insured to give you confidence in our quality. Your satisfaction is our number one priority. Call the experts at Double A Power Washing today for your Granger-area property.
Granger Power Washing questions from our customers
No need to be home for an estimate. Leveraging modern technology, particularly Google Earth, we can swiftly gather necessary data. Often, after obtaining your details, we can deliver an estimate within just 1-2 hours, sometimes even in 5 minutes.
Given our services focus on external cleaning, there's no need for someone to be present. However, please ensure windows are closed, water spigots are on, and items you'd prefer kept dry are either distanced from the house or indoors. Additionally, if you have a fence, ensure it's unlocked for access. If there are vehicles in the driveway, kindly relocate them to prevent potential overspray.
Ready for the best power washing in Granger, IN?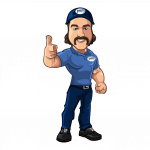 If your home or business needs a refresh from a company you can count on, contact us today! One of our knowledgeable and friendly representatives will be happy to assist and answer any questions you might have before your free estimate. Give us a call/ text at 574-221-8400 or fill out our free estimate form here. You can rest easy knowing that Double A Power Washing is fully insured for all of the work that we do! 
what Granger residents are saying
Positive: Professionalism, Punctuality, Quality, Responsiveness, Value! Wow, what an incredible company and experience! We just purchased our home and it needed some TLC. Thanks for making my house come to life. They were booked but made accommodations to fit me in and I am truly grateful. I will certainly use their service again.
Aaron was doing power wash work for my apartment complex. I asked if I could pay him to pressure wash my hub caps that were caked in black grime and he happily agreed. After renewing them to a shine, he insisted not to take payment!We got to chatting and Aaron shared with me that he started his business small and he has grown his business to include a few new team members and a professional, heavy duty power washing rig. He invested and built it from the ground up.You couldn't hope to find a more honest partner to contract your pressure washing needs with.Five Stars. Will only use Aaron going forward.
Aaron was wonderful to work with. He was professional from start to finish with my project. He even cleaned my brick mailbox for no additional charge! His prompt scheduling and timeliness was something that I appreciate very much, especially me coming from a home services business myself! I give Aaron and his business 5 stars! Very impressive and strongly recommend his company!