A Better Exterior House Washing for Michiana Homes
Is your home's siding not up to your standards? Do you notice a buildup of gunk? Your paint might seem dull, dirty, or brown. That's because grime like dirt, pollen, mold and other decay lives on the outside of your home. This buildup can be unsightly. And it can also be a hazard to your health. Double A Power Washing takes care of your home with soft wash house cleaning. 
Based out of Mishawaka, Double A Power Washing soft washes homes across Michiana. We know you take pride in your home. That's why we pride ourselves on our quality soft washing services. This alternative to power washing works wonders on your home's appearance and can even improve your health. Family-owned and fully insured, we're ready to make your home look good as new.
Michiana Soft Wash Experts
Soft washing homes is a safe way to get a clean home exterior. With standard power washing, teams use pressure washers at very high pressure to scrub grime away. To soft wash, our experts use pressure washers at a very low setting, combined with gentle solutions that mix bleach and other cleaners. This preserves the integrity of your siding, surrounding greenery and other home materials. It also kills all of the organic growth at a molecular level, all while giving your home a sparkling uplift!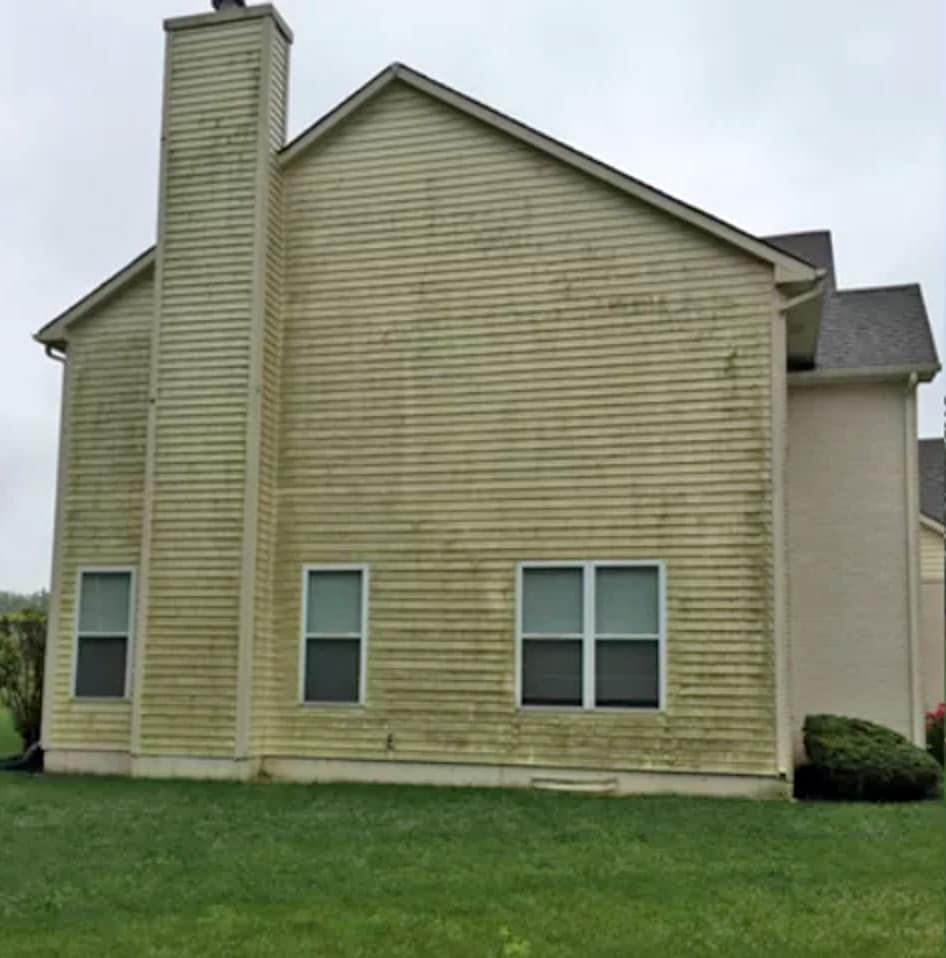 Why soft wash instead of power wash?
The high pressure from power washing a home can damage the exterior of the home. It can also push water under your home's siding. Over time, that water can lead to mold and mildew that can be dangerous to your health. 
Soft washing lowers the amount of pressure and gets better cleaning results. And it does this without damaging your siding or creating potential water damage. This is why it should be the only method of cleaning when house washing.
What type of siding is soft wash good for?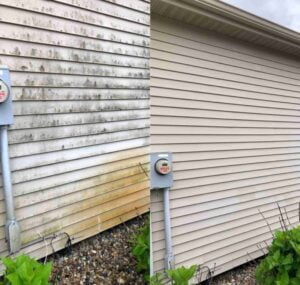 Because soft washing is a gentler alternative to power washing, it's ideal for many types of home exteriors. This is the only cleaning method recommended by vinyl siding manufactures This includes:
Vinyl siding

Stucco siding

Brick exteriors

Stonework

Painted siding

Wood siding

Gutters and downspouts
Annual House WAshing Membership
When you enroll in our annual membership, we give members flexible payment options so they can pay for their first cleaning at once then have the option to choose low automatic monthly payments thereafter. Get top tier power washing service from professionals who will help protect your home's beauty for years to come! Don't wait any longer; join now and maintain a spotless house without breaking the bank!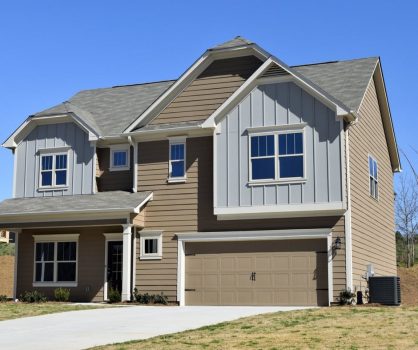 No, we do not require anyone to be home since we are cleaning the outside of the house. We do ask that on your day of service that you make sure all of the windows are closed and the water is turned on to the outside spigot.
There is no cookie cutter answer for how much does a house wash cost? There are many variables that factor into the price here's a few examples:
How many exterior square feet is the house (including the attached garage)
How many stories tall
What is the siding of your house? (Vinyl, Brick, Stucco, Aluminum)
Some people get their homes washed every year, because they never want to worry about their home looking dirty. A majority of customers tend to schedule their washing for every other year. Depending on the conditions around your home this is usually when you'll start to notice some dirt, pollen, or algae starting to come back.
The outside of my house looks amazing! I am so glad that I had Double A soft wash my siding!! It was great to work with Aaron!
Aaron was wonderful to work with. He was professional from start to finish with my project. He even cleaned my brick mailbox for no additional charge! His prompt scheduling and timeliness was something that I appreciate very much, especially me coming from a home services business myself! I give Aaron and his business 5 stars! Very impressive and strongly recommend his company!
These guys did a phenomenal job! I hired them to soft wash my limestone brick house and the surrounding concrete patio/driveway. What a huge difference it made! They were careful with my home and thorough. Thank you Double A!!