Mishawaka Power Washing Experts
Mishawaka, Indiana is a beautiful community located in Northwest Indiana. The city is situated on the St. Joseph River, and it is home to many enjoyable restaurants, charming downtown businesses, and plenty of opportunities to be active outdoors. Mishawaka's greenspaces and parks are second to none. The community here is such a beautiful thing to be involved in and the people who call Mishawaka home are one-of-a-kind. When the residents and business owners of Mishawaka seek power washing services, they come to Double A Power Washing for the help they need.
Residential And Commercial Power Washing Designed For Mishawaka Residents
Residential soft washing is a great way to clean the exterior of your home and make it look like new. Dirt, grime, and mold can build up on the surfaces of your home and can cause damage over time.  Soft washing uses low pressure and is a great option for cleaning more delicate surfaces such as wood or painted siding. Power washing with a higher water pressure is mostly used for tougher surfaces such as concrete or roofs and gutters. The process of power washing a home can remove dirt, grime, and mold from surfaces. It can also restore the natural color of wood or metal, and can help extend the life of concrete or asphalt driveways.
Mishawaka small business owners turn to Double A Power Washing to keep their restaurants, storefronts, and warehouses clean and appealing. Commercial power washing is a great way to clean areas that are difficult to reach or too large to clean by hand. It is a safe and efficient way to remove dirt, dust, grime, and other debris from concrete patios, awnings, building exteriors, and more. Power washing can also be used for graffiti and gum removal.
Depend On Our Team Of Friendly Technicians
When it comes to keeping your property clean, you can't go wrong with the Double A Power Washing team of professionals. Our crew of experienced employees will have your property looking like new in no time. We use the latest and most effective equipment to clean every nook and cranny, so you can be sure that your property will be thoroughly cleaned. 
Request An Estimate For Your Project Today
 In today's busy world, it's nice to know that there's a company out there that can take care of the little things for you. That's where we come in so if you're a homeowner in Mishawaka that has noticed a buildup of dirt on or around your home – contact us today by calling 574-221-8400 or fill out our online contact form to receive a free estimate.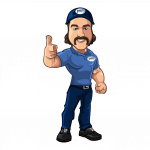 Mishawaka, IN Power Washing Reviews
Positive: Professionalism, Quality! Our house REALLY needed a good washing and gutter cleaning!! Not only does our house look AMAZINGLY clean it even smells clean! I would highly recommend Double A to anyone wanting to get their home cleaned up!
Positive: Professionalism, Quality, Responsiveness, Value! Had Double A do and estimate which was completed within a day. Was the best price out there period. Had my project fit in within a week so turnaround time was fast. Left with a house that looked great and no mess left behind. Would recommend to anyone
Positive: Professionalism, Quality, Responsiveness, Value! The outside of my house looks amazing! I am so glad that I had Double A power wash my siding!! It was great to work with Aaron!