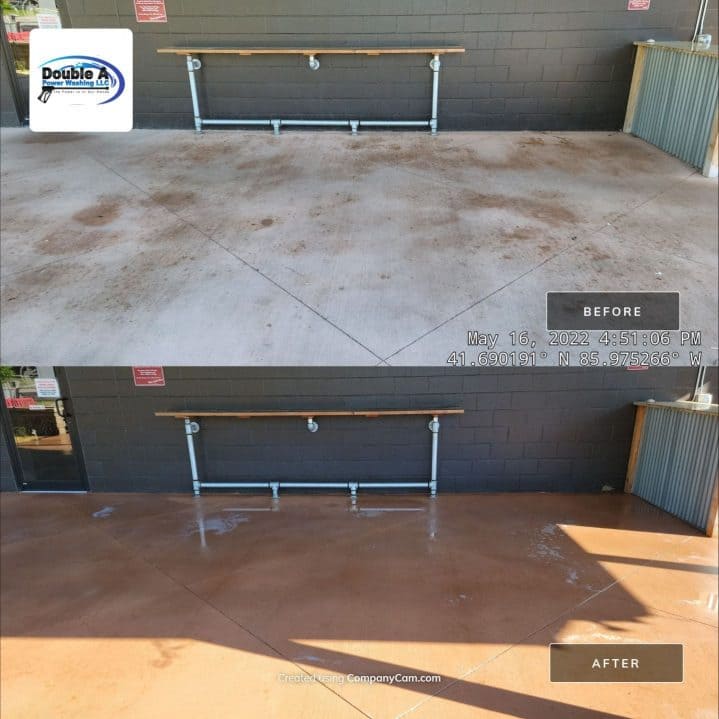 In today's world, first impressions are key. When a potential customer or client drives up to your place of business, the first thing they'll see is the outside of your building. If it's covered in dirt and other unsightly marks, they may not even want to go inside. That's why it's important to keep the exterior of your commercial property clean – and power washing is the best way to do that. Luckily, the team of experienced professionals at Double A Power Washing can lend a hand to any commercial property in or around the Mishawaka area.
1. Curb Appeal
Curb appeal matters. The outside of your building is the first thing potential customers see, so it's important to make sure your business looks nice. One way to do this is by having the exterior power washed. Take care of any graffiti left on your property or small inconveniences present like gum on the sidewalk. By power washing the concrete surrounding your commercial property, customers are far more likely to want to walk through the front doors. If you have an outdoor space such as a patio or an awning area, make sure it looks nice as well!
Power washing can remove dirt, grime, and other build-up that can make your business look run-down and uninviting. It's a quick and easy way to give your business a fresh start – and it doesn't have to be expensive. Contact the team at Double A Power Washing to get a quote.
2. Safety And Hygiene
A new study has found that commercial power washing is an effective way to reduce the spread of bacteria and improve safety and hygiene. The study, which was conducted by the University of California, Berkeley, found that power washing with a bleach solution can significantly reduce the number of bacteria on surfaces.
"Our results demonstrate that power washing is an effective method for reducing the spread of bacteria and improving safety and hygiene," said study author Dr. Jennifer Kuan. "This is especially important in public places where there is a high risk of transmission of diseases."
The study also found that power washing can help to remove dirt, dust, and other debris from surfaces, which can further improve safety and hygiene. "Power washing is an important tool in the fight against disease," said Dr. Kuan.
3. Prolong The Life Of Your Space
Commercial power washing is an effective way to clean the outside of a building and remove any build-up that has occurred over time. This method can also help to prolong the life of the building by removing any harmful substances like rust that could potentially cause damage. Power washing is an important part of keeping a commercial building in good condition and can help to ensure its longevity.
4. Saves Money
Power washing your business can save you money in the long run by preventing wear and tear on your building. By keeping your building clean, you'll prolong its lifespan and avoid having to pay for expensive repairs. So don't wait until your building is in dire need of a power wash – get proactive and schedule one today. You'll be glad you did when you see the money you save in the long run!
5. Less Maintenance For You
In the long run, power washing is less expensive and time-consuming than other methods of cleaning, such as pressure washing or manual scrubbing. Power washing also has the added benefit of being environmentally friendly, as it uses less water than other methods of cleaning. To get the most out of power washing, it is important to hire professionals who have experience in commercial power washing. A professional power washer will have the knowledge and equipment to safely and effectively clean your property. Contact Double A Power Washing today by calling 574-221-8400 or by filling out our online contact form.