Double A Power Washing Keeps St. Joseph County Clean
Visitors and residents alike know that St. Joseph County is a true gem of Northern Indiana. As one of the most populated counties in the state, St. Joseph County has so much to offer. Across the world, fans cheer on Notre Dame athletes all year while they compete in beautiful stadiums, courts, and fields against some of the most elite NCAA programs in the country. Families move to the South Bend/Mishawaka area to give their children access to highly ranked and academically rigorous private and public schools, not to mention the welcoming community.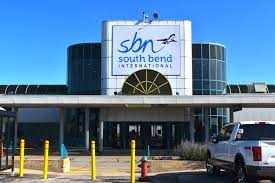 The beautiful St. Joe River bends and flows right through downtown South Bend and several peaceful natural areas. Howard Park is home to a beautiful skating ribbon in the winter and the Morris Performing Arts Center puts on spectacular shows throughout the year. The southern half of St. Joseph County is home to a strong agricultural community and various cozy downtown strips stretching through the smaller towns in the county. No matter where you live or work in St. Joseph County, Indiana, you need a power washing company you can count on to keep your residential and commercial properties clean.
What Can Double A Power Washing Do For You?
If you're unfamiliar with the power washing process and its purpose, let's start with the basics. To power wash, we use a very high-pressure water spraying machine to separate dirt, grime, loose paint, debris, and mildew from surfaces like driveways, sidewalks, pavement, bricks, and several other structural items. If this process is not completed in an appropriate manner, the surface will be damaged, which is why you should trust the professionals at Double A Power Washing. We also offer soft washing for the facades and materials that need a softer touch like vinyl siding and asphalt roofs. Whatever your exterior surfaces need, the team at Double A Power Washing is here to serve you with service that shines. 
Double A Is St. Joseph County's Choice For Power Washing
Double A was created just a few years ago by Aaron and Amanda Koszyk, huge supporters of the Michiana area and St. Joseph County. They have pushed diligently for customer service to be a top priority in their day-to-day operations, and they've followed up by training their cordial team of professionals to do the same. We take great pride in the results we produce for the homeowners and business owners located in St. Joe County. The proof is in the pudding! Just listen to our customers.
Call To Request A Quote Today
We work hard to provide our customers, new and old, with high quality outcomes and affordable prices. To Double A, you're more than just another client. Our team of friendly representatives would be more than glad to help you. Simply give us a call at 574-281-8400 or fill out the free estimate form on our website.
What St joseph County is saying about double a
Positive: Professionalism, Punctuality, Quality, Responsiveness, Value! Great job, super professional, excellent value, and Great Hair
Positive: Professionalism, Punctuality, Quality, Responsiveness! Double A Power Washing was on it. I called Aaron for a siding and deck power wash. He was very responsive and took care of the work quickly and professionally. Great job, guys.
Positive: Professionalism, Quality, Value! Very happy with the work done. House looks new!!