Edwardsburg, MI Power Washing
Double A Power Washing in Edwardsburg, MI
Power Washing Services in Edwardsburg, Mi
Power washing isn't just a strategy to get a clean home. It's a skill that requires practice and training. Power washing applies high amounts of pressurized solutions to clean surfaces and structures, including siding, patios, and sidewalks. When done incorrectly, power washing can actually damage these structures. Double A Power Washing offers professional power washing services, along with rust removal and wood restoration services, too! 
We soft wash homes in Michiana to protect siding while restoring your home's image. Edwardsburg House Washing is imperative to maintaining a clean home.
Edwardsburg Commercial Power Washing is needed to keep your buildings looking clean and fresh. Customers are more likely to return to a clean business.
Edwardsburg Concrete Cleaning is a must to keep your sidewalks, driveways, & patios looking fresh.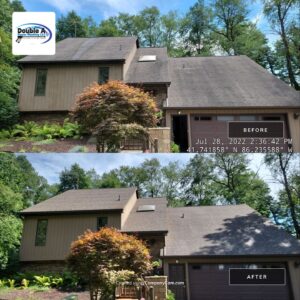 Edwardsburg Roof Washing is necessary to keep the organic organisms from making your roof their home. Over time if left untreated, they will destroy your roof.
Why Choose Double A Power Washing?
Our founders, Aaron, and Amanda Koszyk, are part of the Michiana community. Keeping the community clean and beautiful isn't just a goal for them; it's a mission. Since 2019, Aaron and Amanda have worked with their professional team to power wash homes and businesses throughout Michiana. From getting the cleanest gutters and roof to a sparkling home and patio, residents love Double A!
Get Your Free Quote Today
You take pride in your home or business. We take pride in Michiana. Let us get your home or business looking new and clean again! Call us today at 574-221-8400 or fill out our Free Estimate form. Our team will work with you to determine your needs and provide a free quote. 
Here's What Edwardsburg, MI Thinks of Double A!
Positive: Professionalism, Punctuality, Quality, Responsiveness! Aaron was able to come on short notice and the price was reasonable! Overall good job on the house!
Aaron and Ashtin power washed our whole house, front sidewalk, gutters and entire driveway. I live in the woods so after 17 years things can get pretty dirty, grimy and stained. The driveway was nearly as white as it was when it was poured. I had an estimate and contractor lined up to install brand new gutters and facia for about $3,000. The gutters were very stained from tree droppings and leaves over the years but these two guys told me they could get them clean and they were right, the gutters looked nearly new. The job was started on a Friday and we were out of town for the weekend. About 2/3 through the job a big storm blew up and they had to wrap up for the day. Ashtin texted me to let me know they would come back on Saturday. When we returned home on Sunday afternoon we were over the top amazed at how great everything looked and would look for my daughter's graduation party in two weeks. These two gentlemen saved us over $2,000. We are very pleased with the job they did and for a reasonable price. We plan to use their services every three or so years and not wait 17 again.
Positive: Professionalism, Quality, Value! Outstanding job Double A Power Washing! Aaron, the owner/technician, explained the process in detail before starting the job. The results are outstanding. Well worth the price. The house looks new. Highly recommend.