Cass County's Premier Power Washing Company
Cass County, Michigan residents stay busy taking advantage of all the area has to offer, especially when summer swings around. The county's location on the shores of Lake Michigan provides plenty of opportunity for water sports and other activities. For those who prefer to stay on land, there's plenty of parks and nature trails to explore. And no summer would be complete without a visit to one of the many local festivals or farmers markets.
One popular activity that the residents, visitors, and business owners of Cass County take part in when the weather gets warmer is power washing their homes and businesses. Many people take advantage of the beautiful weather to give their property a fresh start for the summer. There are several companies in the area that offer this service but Double A Power Washing does it best!
Full-service Power Washing Options for the Homes and Businesses Located in Cass County
Power washing is a cleaning service that uses high pressure water to clean surfaces. This type of cleaning is often used for removing dirt, grime, and stains from surfaces like wood, concrete, and metal. It can also be used for restoring surfaces that have been damaged by weather or age.
Soft Washing is a cleaning method that uses high volumes of low-pressure water, a surfactant, and bleach. This method is much safer than traditional power washing and should be the only cleaning method used when cleaning houses and roofs. 
There are several different washing services that Double A can provide. Some of the most common services recommended by our team of professionals include: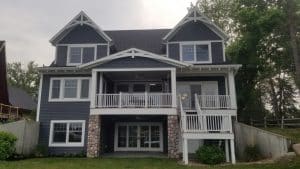 Cass County House Washing can make all the difference when having guests over. Soft washing can be used to clean house siding and remove any dirt or grime that has built up over time.
Cass County Commercial Power Washing is the best way to keep your business clean and give your customers a great first impression.
Cass County Concrete Cleaning can be done with a power washer. There is a big difference in the results of doing the job yourself and having a professional power washing company clean your concrete.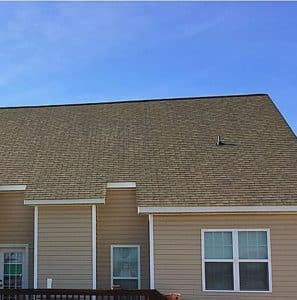 Cass County Roof Washing is a must, especially with all the lakes and water around. The Soft Wash Cleaning Method is the only way to clean a roof. It will kill all the organic buildup like algae, moss, & lichens, and won't destroy the asphalt granules with high pressure.
Kick the Dirt and Grime on Your Property to the Curb
For the last several years, Double A Power Washing has been on a mission to provide Northern Indiana and Southwest Michigan with the highest level of service and assistance. Our team of friendly professionals is dedicated to customer satisfaction and positive interaction. Our customers trust us to keep their homes clean and beautiful. Consider Double A to take care of getting your property its swag back!
Take the Next Step with Double A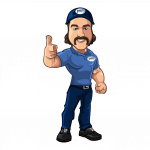 Take pride in showing off your space. Eliminate dirt, grime, and stains with the help of Double A Power Washing. Contact us by calling/ texting 574-221-8400 or fill out our online form to request a free estimate! We look forward to hearing from you!
What our Cass County, mi customers are saying about us
Positive: Professionalism! Great job washing my house & garage! Aaron was on time, got right to work and I'm very pleased with the results. I would highly recommend.
Aaron and Ashtin power washed our whole house, front sidewalk, gutters and entire driveway. I live in the woods so after 17 years things can get pretty dirty, grimy and stained. The driveway was nearly as white as it was when it was poured. I had an estimate and contractor lined up to install brand new gutters and facia for about $3,000. The gutters were very stained from tree droppings and leaves over the years but these two guys told me they could get them clean and they were right, the gutters looked nearly new. The job was started on a Friday and we were out of town for the weekend. About 2/3 through the job a big storm blew up and they had to wrap up for the day. Ashtin texted me to let me know they would come back on Saturday. When we returned home on Sunday afternoon we were over the top amazed at how great everything looked and would look for my daughter's graduation party in two weeks. These two gentlemen saved us over $2,000. We are very pleased with the job they did and for a reasonable price. We plan to use their services every three or so years and not wait 17 again.
Positive: Professionalism, Punctuality, Quality, Responsiveness! Aaron was able to come on short notice and the price was reasonable! Overall good job on the house.