How to choose the best Elkhart power washing company for your needs
Looking for an exciting destination to call home? Look no further than Elkhart, Indiana! This vibrant city is home to a variety of attractions and activities that are sure to please everyone in your family. From arts and culture to outdoor recreation, there's something for everyone in Elkhart.
History buffs will love exploring the city's rich history. There are several museums and historical sites located in Elkhart, including the Elkhart County Historical Museum, The National New York Central Railroad Museum, and The RV Hall of Fame & Museum. These museums offer a fascinating look at the city's past, from its early days as a pioneer settlement to its growth into a major industrial center.
Elkhart residents have plenty of options when it comes to doing things outside! The city is home to several beautiful parks, including Beardsley Park, Central Park, and Ideal Beach Family Water Park. These parks offer plenty of opportunities for hiking, biking, fishing, and other outdoor activities. Elkhart is also located close to several major lakes, which offer great opportunities for water sports and fishing.
In addition to its natural beauty, Elkhart has the professionals at Double A Power Washing to help keep everything looking clean and beautiful!
Elkhart Power Washing Services by Double A Power Washing
Looking for a reliable and experienced power washing company in Elkhart, IN? Look no further than Double A Power Washing! We offer a variety of power washing services to meet your needs.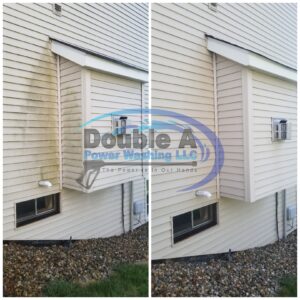 We specialize in Elkhart House Washing. Soft Washing will kill all of the green algae on your siding and wash away all of the dirt.
Elkhart Commercial Power Washing is best left to the professionals. Iechya Da Brewing Company didn't waste anytime and made sure their patio was looking great for the spring opening!
Elkhart Concrete Cleaning can soon become and overwhelming task without the proper equipment and training. Professional power washers have the right tools and knowledge to make your concrete look great again!
Elkhart Roof Washing is not something a homeowner or inexperienced power washer should try. You need the proper mixture of soap and chemicals to make sure you kill all of the organic spores on the roof.
From Commercial Power Washing to Soft Washing, we have you covered. With our experienced and knowledgeable team, you can count on us to provide the highest quality work in a timely and efficient manner.
Why Choose Double A Power Washing for Your Power Washing Needs?
At Double A Power Washing, we pride ourselves on providing the highest quality power washing services in Elkhart, IN. We have the experience and knowledge to handle a variety of power washing needs.
Our team is experienced in all aspects of power washing, from Commercial Power Washing to Roof Washing. We are dedicated to providing our clients with the best possible service, and we always strive to meet your needs and expectations.
We understand that not every project is the same, so we offer a variety of services to meet your needs. Whether you need House Washing or Concrete Cleaning, we can provide you with a solution that fits your needs and budget.
We also offer competitive pricing, so you can rest assured that you're getting the best value for your money.
Reliable & Experienced Power Washing Company In Elkhart, IN
If you're looking for a reliable and experienced power washing company in Elkhart, IN, look no further than Double A Power Washing! Our team is experienced and dedicated to providing our clients with the best possible service. We offer a wide range of services to meet your needs and we always strive to provide the highest quality workmanship. Contact us today for a free estimate! You can fill out our Free Estimate form or call/ text us at 574-221-8400